2022 Furnace ('Phoenix') and Lehr at Quarley - Phoenix Firing Four (May 2022)
Projects: 2019 Onwards Wood Gathering and Processing Phoenix Firing Three Repairs after Firing Three Phoenix Firing Four

Phoenix Firing Five The New Shelter Floor The Electric Kiln Rebuilding the Lehr Etna Build and Firings General Photos

Vesuvius Firepit Build Vesuvius Superstructure Build Vesuvius Firings Repairs after Firing Five Phoenix Firing Six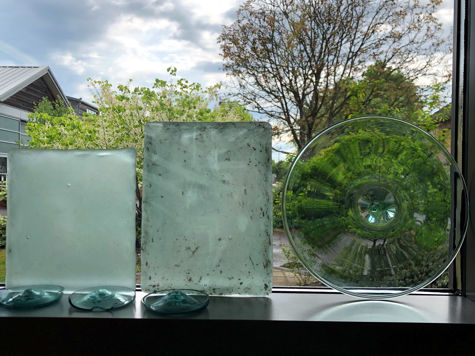 This was a two-day firing, running from the 14th to the 15th May, 2022. We concentrated on making various types of window panes: non-blown (poured and stretched, both flat and domed (slumped) versions) and blown (cylinder and crown), all of which, probably, were in use during the Roman period.

We lit the furnace at around 07.00 on Day One. We ran the furnace through the night and stopped fuelling it at about 18.00 on Day Two. This meant that we did not need to reheat the furnace and set a new pot in the morning of Day Two, so could devote more time to making window panes.

Denise Allen, an authority on the history and archaeology of Roman glass, was present for both days, gathering material for an article on Roman window glass for the 2023 Journal of Glass Studies.
Home Gallery Contact Events & Projects Projects: 2019 Onwards Film & TV Archive & Links