Gallery Of Glass For Sale - Roman and Other Ancient Glass - Mould-blown Beakers
Ordering, Postage, Payment, Import Duty & Safety Introduction to Circus Beakers
Almond Knobbed or Lotus Beaker 062a Price £20 each
We do not make Lotus Beakers to order - these are individual vessels that are in stock and can be purchased as seen


Blue-green
In stock: 0



Amber
In stock: 0



Cobalt blue
In stock: 0
Based on beakers of Flavian date (late 1st century AD), particularly vessels in the British Museum, the Victoria and Albert Museum and the Newark Museum, New Jersey.
The almond knob or lotus pattern is often interpreted as a stylised representaton of Hercules' wooden club. Most examples are amber or pale green in colour, although cobalt blue vessels are known.
Several examples of this beaker, made by us, can be seen in the film 'Gladiator'.
Height: 13.5cm Diameter at rim: 6.8cm Capacity: 290ml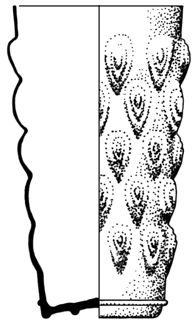 Home Gallery Contact Events & Projects Projects: 2019 Onwards Film & TV Archive & Links