Outlander Vessels By Season
Ordering, Postage, Payment, Import Duty & Safety Outlander Vessels for Sale
Since 2013, we have made a great deal of glass for Outlander, including bottles, tableware, wine and whiskey glasses, and glass for Claire's Surgery (but note that we have not made all of the glass seen in Outlander – some has been sourced from other suppliers).
See our Outlander Vessels for Sale page for all of the Outlander vessels we have in stock.
Outlander Season One
In 2013, we were contacted by the production company for the Starz television series "Outlander" and were asked to make glasses for the set. Three designs were selected for the production: The Wedding Scene Glass, The Wine Glass and The Banquet Glass. They also selected some Shaft and Globe bottles and some Onion bottles (including our Early, Late and Transitional types - see this page).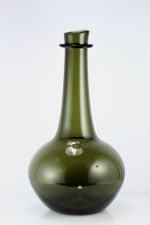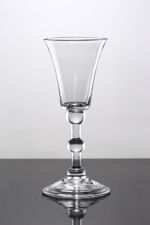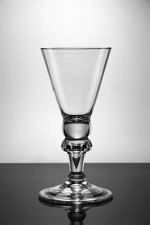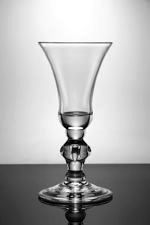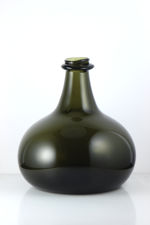 Outlander Season Two
In 2015, for the second season, we supplied Outlander with more dark green bottles, particularly the long-necked Shaft and Globe type, as well as some clear glass decanters with stoppers.

In addition, we have been asked by several Outlander fans if we could make the carafe featured in the Wedding Scene from the first season, as well as clear glass versions of the bottles. We have also been asked for a champagne flute in the style of The Wine Glass.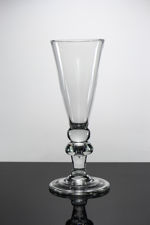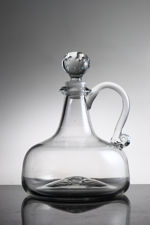 Outlander Season Three
In 2016, for the third season, we supplied another large quantity of glasses: repeats of the original glasses we supplied for the first season. Also for the third season we supplied a large quantity of small and large decanters without handles.

We also make a version of the glass used by Jamie and Claire when celebrating their reunion. This glass is also used by Roger and Brianna when celebrating their wedding.
Outlander Season Four
In 2017, for the fourth season, we supplied three new styles of drinking glasses, a tumbler and two new styles of bottles. In keeping with the period, opaque twist wine glasses were introduced, as well as a mead or champagne glass (this shape is now thought to have been used for Rhenish wine). The beer/wine/spirit and champagne bottles also reflected the later 18th century styles.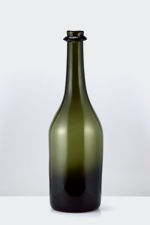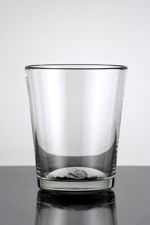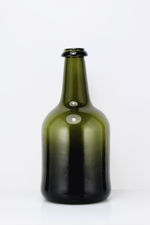 Outlander Season Five
In 2018, for the fifth season we supplied two styles of tankard, small jugs, two styles of sweetmeat dishes, two types of open-flame oil lamp together with a vessel for filling them, and various chemical glasswares including retorts and collecting jars, ointment jars, and many mould-blown and free-blown jars and bottles.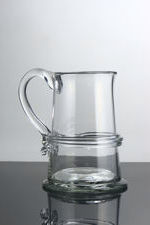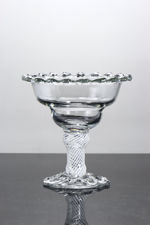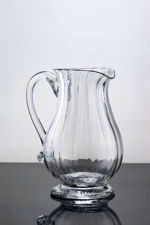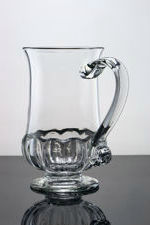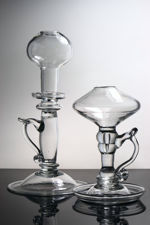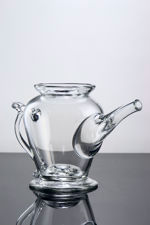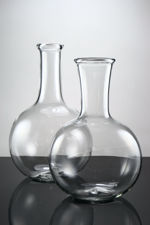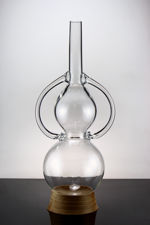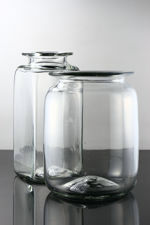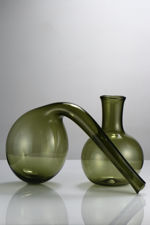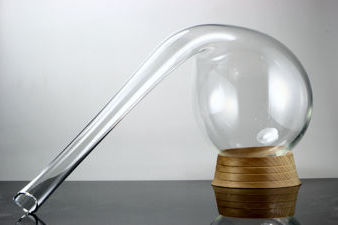 Outlander Season Six
In 2019 and 2020, for the sixth season we supplied four new styles of dark green bottles (one in both a large and a small size) as well as some more tumblers and glasses from Season Four and the Wedding Scene Carafe from Season One.

We also made components for a distillation set including two demijohns, a large retort and a large collecting bottle, together with the glass connecting tubes and the brass taps, both of which we sourced elsewhere.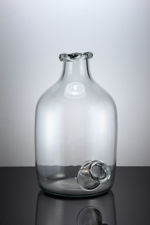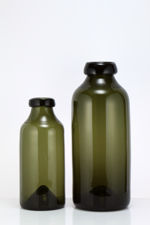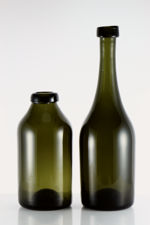 Outlander Season Seven
In 2022, for the seventh season we supplied three new styles of bottles and a carafe with a spout. We also supplied more of the tumblers first used in Season Four.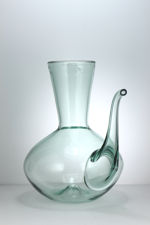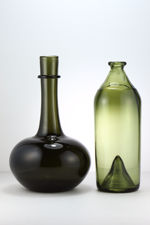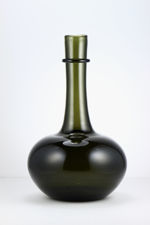 Outlander Sealed Bottles
In addition, we have made eight seals with designs inspired by the Outlander series. See this page for a link to bottles with Outlander seals that we have in stock.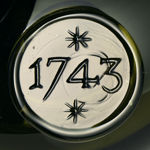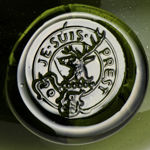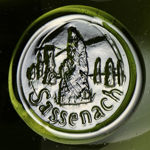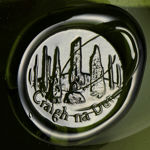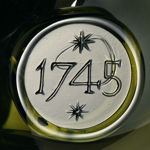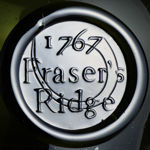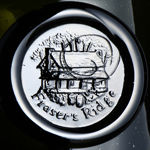 See our Outlander Vessels for Sale page for all of the Outlander vessels we have in stock.
If you wish to purchase glass from the Gallery, please see our Ordering, Postage, Payment, Import Duty & Safety page.
Home Gallery Contact Events & Projects Projects: 2019 Onwards Film & TV Archive & Links