'The Favourite' Vessels Information
Ordering, Postage, Payment, Import Duty & Safety 'The Favourite' Vessels Our Reference Library for 18th century Glass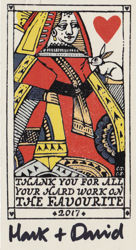 In 2017, we were commissioned to make a series of glass vessels for 'The Favourite', a film about the political machinations behind the scenes during the reign of Queen Anne (1702-1714). They also selected some Shaft and Globe bottles.

The glass we made was based directly on that of the late 17th and early 18th centuries, much of it in the delicate Façon de Venise style that reflected Dutch and English glass of the period; very suitable as Queen Anne was the last of the Stuart monarchs and her first cousin was William of Orange (William III of England and husband to Mary, Anne's elder sister).

See this page for vessels in stock.
If you wish to purchase glass from the Gallery, please read our Ordering, Postage, Payment, etc. page.
Measurements in the descriptions below are approximate (circa), and bowl capacities are measured to within 1cm of the rim.
Decanter One

Tall-necked decanter with globular body decorated nipt diamond waies.

Decanter in photo: Height: 23.0cm
Diameter: 13.7cm Capacity: 800ml


Price: £60

Decanter Two

Decanter with globular body decorated with a rigaree-patterned trail on the shoulder and eight vertical pinched trails.

Decanter in photo: Height: 20.5cm Diameter: 14.3cm Capacity: 900ml

Price: £70

Wine Glass One

Wine Glass with trumpet bowl, a blown inverted baluster stem between two mereses, and a folded foot - all with wrythen decoration.
Glass in photo: Height: 16.0cm
Rim diameter: 7.0cm Capacity 130ml

Price: £50

Wine Glass Two

Wine Glass with deep round funnel bowl with wrythen decoration, stem with central, ribbed ball knop, and folded foot.

Glass in photo: Height: 13.7cm
Rim diameter: 6.1cm Capacity 150ml

Price: £45

Champagne Glass

Champagne or mead glass with rounded bowl with mezzo stampo decoration, flattened blown knop over blown inverted baluster stem, and folded foot.
Glass in photo: Height: 12.5cm
Rim diameter: 7.0cm Capacity 170ml

Price: £45

Water Glass

Bowl with wrythen decoration and foot-ring with rigaree decoration.

Glass in photo: Height: 10.5cm
Rim diameter: 6.1cm Capacity 150ml


Price: £35

Cream Jug

Round funnel bowl with in-folded rim and pouring spout, and large merese over lengthened folded foot. Handle on bowl opposite spout.
Cream Jug in photo: Height: 10.7cm
Rim diameter: 7.0cm Capacity 120ml

Price: £45

Shaft and Globe Bottle

Tall-necked bottle with globular body without a seal. See this page for a link to shaft and globe bottles.

Typical bottle: Height: 23.0cm
Diameter: 13.5cm Capacity 750ml

Price: £30

Cupping Glass One

Straight-sided body with wrythen decoration and out-folded rim.

Cupping Glass in photo:
Height including knob: 7.0cm
Body diameter: 4.5cm

Price: £15

Cupping Glass Two

Bulbous body with wrythen decoration and out-folded rim.

Cupping Glass in photo:
Height including knob: 8.2cm
Body diameter: 6.0cm

Price: £20

Small Bowl

Body with wrythen decoration and flared rim.

Small Bowl in photo:
Height: 6.4cm
Rim diameter: 12.8cm

Price: £30

Sweetmeat Glass

Deep ogee bowl with six ribs on stem comprising two annular rings over an inverted baluster, domed and folded foot

Sweetmeat Glass in photo: Height: 16.6cm
Rim diameter: 11.7cm

Price: £50

Large Footed Bowl

Wide bowl with nipt diamond waies decoration on stem comprising three annular rings over an inverted baluster, domed and folded foot
Footed Bowl in photo: Height: 15.3cm
Rim diameter: 19.1cm

Price: £75

Large Cake Stand (Salver)

Wide horizontal plate on stem comprising three annular rings over an inverted baluster, domed and folded foot

Cake Stand in photo: Height: 10.9cm
Rim diameter: 22.9cm

Price: £60
Home Gallery Contact Events & Projects Projects: 2019 Onwards Film & TV Archive & Links