News
Project Workshops Newsletters for download:
Summer 2009 (pdf file - 429kb)

Spring 2010 (pdf file - 563kb)

Summer 2010 (pdf file - 487kb)

Winter 2010 (pdf file - 394kb)

Spring 2011 (pdf file - 528kb)

Summer 2011 (pdf file - 409kb)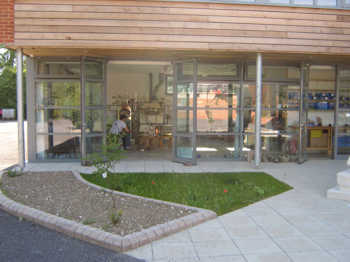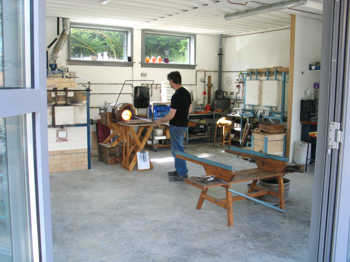 We have now moved into our new unit – Unit 16. After a four-month rebuild, we were finally able to blow glass on 7th May – just in time for the Summer Exhibition!
The furnace room – or 'hotshop' – is larger, and has a higher ceiling, making it much better-suited for glassblowing. The floor to ceiling array of windows along the length of the unit imparts a light, airy feel to the room, and, along with the extra space, gives a very good environment for working with glass. The main furnace has been rebuilt, and has a brand new control and burner system, built and installed by Peter Wren Howard (a very useful person to know in the studio glass world). We also have a new lehr and space for two glory holes and pipe warmers (and for another, smaller furnace in the future).
As you can see from the photos, we are now able to move the equipment around the furnace room, and set up different work areas according to the vessels we need to make.
We are now able to cater for larger groups for our demonstrations, and already on several occasions this year, we have entertained the maximum group size we can handle – 30 people.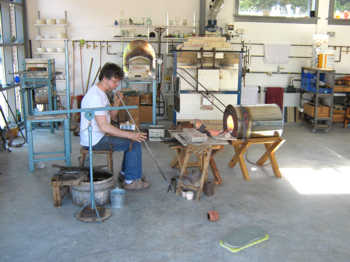 We have noticed a steady increase in group bookings, and in the size of the groups that attend. Word of mouth appears to play a large part in this! One comment we had from a group member was 'You were better than Murano!' A compliment, indeed! We have already taken several bookings for October, so anybody who wishes to book a group demo from late September onwards – please let us know ASAP.
The Project Workshops 2011 Newsletter is available here for download. It has a short profile of the current resident artists - including three new artists, and has details of other events in 2011.
We will be hosting our usual Christmas Sale on the 10th and 11th December, 2011, so if you want to be in the warm on those days, come and watch some glassblowing! Take a look at the 2011 Newsletter for details, and for a report on the 'Life Studio' - a room for everything from aerobics and yoga to craft workshops. It is directly over our workshop, so benefits from all-year-round underfloor heating from our furnaces!
Once again, we will be blowing glass at the wood-fired furnace at Velzeke in 2011 (dates not confirmed yet, but likely to be the weekend of the 10th and 11th of September). Take a look at this website for more information on the Velzeke furnace. We also expect to attend the Re-enactors Market (TORM) in November 2011.
Since moving into Unit 16, we have been working on a range of mould-blown Roman head flasks, using ceramic moulds. The results are very encouraging! We are also working on reproducing 18th century English drinking glasses, and later, probably in September 2011, we hope to start to make them in lead crystal.
Project Workshops will be hosting our regular Christmas Sale on the weekend of 10th and 11th December, 2011. There will be glassblowing demonstrations - of course!
Important News about the Online Gallery:
We have taken down the Roman Glassmakers Online Gallery in preparation for the launch of our new website promoting our late 17th and 18th century glass. We intend to concentrate on this glass for the foreseeable future, so will not be producing any Roman glass reproductions in the immediate future. We will reconsider this position in the Summer of 2012.

The Gallery will be uploaded in a reduced form later this year.

Visit our new Georgian Glassmakers website