Roman Furnace Project 2005: Glass Vessels
Introduction ('Home') &nbsp Thermal Imaging Photographs Woodpile and Ash Pits

Covering the Pot Furnace Photographs of Pots Photographs of Glass Waste Photographs of Glass Vessels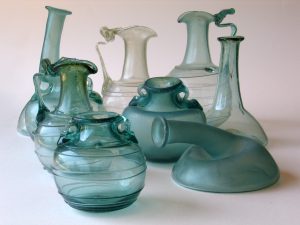 Many of the glass vessels blown during the first few days cracked or broke due to thermal shock. This was eventually sorted out and some of the complete examples are shown.

One problem was the development of a whitish deposit on the surface of the vessels. With prolonged exposure (and particularly when the softening point of the glass was reached), the deposit fused with the glass to form a matt surface (potash in the wood ash?). The effects of reaching the softening point is also seen in the bent necks of the tall phials and in the distorted shoulder of one of the oil flasks.

Another problem experienced was iron scale from the nose of the blowing iron contaminating the glass. This shows up as small black specks and dark green streaks, particularly in the lip and neck of the vessel.
"If you build it, they will come."