Archaeological Illustration
Hover over each drawing to see the caption

Back to Artwork page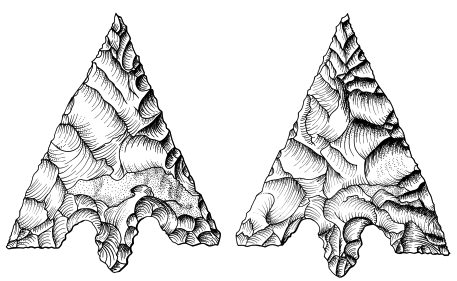 Archaeological illustration continues to be preferred to photography as an academic aid for small finds. Different views of an object, as well as various cross-sections can be shown using "third-angle projection". Whereas photographic lighting can often be relatively crude and partial, a good drawing can convey accurate dimensions, precise details of surface decoration and clearly indicate any visible tool-marks.

All of the original illustrations to our early Roman glass catalogues were drawn by Mark, and when I joined him in 1995, I took over the task of illustrating new glass items as and when they were introduced to the repertoire. I adopted a more realistic approach (which deviates slightly from the fairly strict archaeological 'rules' for glass drawings) which, I feel, not only looks neater, but gives a much better indication of the actual appearance of each vessel. Thus, exclusively cobalt blue vessels are deliberately shaded darker than vessels which are only available in paler glass, and decoration such as splashes of white glass or marvered trails can be expressed more accurately.
| | |
| --- | --- |
| My style of 'stipple' illustration is influenced by the impressive work of the uncredited illustrator(s) responsible for the Catalogue of Roman Glass in the Rheinisches Landesmuseums Trier (Goethert-Polaschek 1977), and the illustrator of many of the finds from Colchester, Terry Cook, one of the finest British illustrators. | |
The catalogue work proved excellent training for archaeological illustration, since I needed to develop all of the necessary techniques for measuring vessels with a high degree of accuracy (usually directly from the objects or fragments themselves), and for expressing the shading, and sometimes recording variegations of colour. Alternative views and elevations were also included where necessary, to clarify details and shapes. The drawings of the unusual glass vessel (see above) found in the Spitalfields Roman burial, for example, were executed from the measured drawings of the object which I made at the Museum of London, and served as a direct reference drawing for our reproduction of the vessel for BBC TV's 'Meet the Ancestors' ('The Princess in the City').
Please bear in mind that the screen quality of many of the illustrations on this page and the Roman Glassmakers pages is often relatively poor, due to the inevitable compromises incurred by the resampling of the file sizes!





To show the range of my illustrations, I have included a wide selection of objects, ranging from Lower Paleolithic Handaxes to 18th Century salt-glazed rustic pottery and clay pipes, as well as a conjectural reconstruction painting depicting a late Roman glasshouse at Hambacher Forest, Germany.
To commission archaeological finds drawings or conjectural reconstruction illustrations, please contact me

Back to Artwork page